Friends of Stewart Park is an organization committed to ensuring that Ithaca's lakefront park and trail is a beautiful and welcoming destination for everyone to enjoy.
Party for the Park 2019
On Saturday, September 14, 2019, Friends of Stewart Park and Wharton Studio Museum host their 4th annual Party for the Park, a fundraiser in support of the revitalization of our historic lakefront park. We invite to you join us for an unforgettable September evening with lovely views of Cayuga Lake from the newly-restored Picnic Pavilion. Enjoy live music, as well as cocktails and delicious food catered by Luna Inspired Street Food. We encourage you to buy your tickets as soon as possible to help our caterer plan! Hope to see you there!
Thank you to our Presenting Sponsors:
Cinemapolis

Finger Lakes Wealth Management

Iron Design

Play By Design

T.G. Miller

The Plantsmen

Tompkins Trust Company

Ridge Road Imports
Thank you to Howard Hanna Real Estate Services for Sponsoring our Make A Splash campaign for August!
Thank you to Purity Ice Cream for sponsoring FSP's Make a Splash campaign for July! Their generous gift of $20,000 has gone a long way toward our $50,000 overall goal! Look for our poster promoting the Make a Splash campaign at Purity when you enjoy some ice cream on the warm days ahead! Together we can make a splash in Stewart Park!

Outdoor Recreation of all kinds will be highlighted in the new Paddle Pedal and Play Festival, Saturday September 14 at Stewart Park!
Free and low-cost activities will be happening throughout the park. Come try your hand at paddle board yoga, take a Lime Bike for a spin on the Cayuga Waterfront Trail, discover the fun of pickleball, score a goal with Soccer Shots, climb a tree with Cornell Outdoor Recreation, watch a roller quiditch game, learn about tons of recreation opportunities in our area and more! Music and Rec Expo at the Picnic Pavilion, great food available onsite.

More details and scheduling to come! The Paddle, Pedal and Play Festival is funded in part by a grant from the Tompkins County Tourism Program with sponsor support by Paddle-N-More.

Activities to try: paddleboarding, kayaking, canoeing, biking, bocce ball, pickleball, volleyball, soccer, tennis, juggling, tree climbing, rollerskating, running, SUP yoga, and more!
LET'S PLAY!
Update on the Inclusive Playground
We are excited to report that construction of Phase 2 of the Stewart Park Inclusive Playground, outlined in the white dashed line on the site map below, will begin in August or early September and is scheduled to be completed by the end of 2019. A site contractor, Spencieri Ltd. of Syracuse NY, is being hired by the City of Ithaca to construct this second phase of the playground.
This next phase of the project includes the following elements:
A large and highly-accessible school-age play structure that rises to more than 5' in height along a series of ramps and decks with many play opportunities and events;
A large area of rubber safety surfacing below the structure extending under the phase 1 accessible swings to enhance access to all of the playground structures;

A serpentine berm with an accessible concrete walkway on its ridge that runs alongside the school age structure and rises to a height of 5' 3", providing access to the equipment at 3 different points, and ending at a circular overlook of the park and Cayuga Lake;

An open-sided carousel cover that will protect the historic Carousel from winter weather and allow it to stay safely in place year-round;

Parking and pathway improvements to enhance access to the playground and adjacent park facilities.

Phase II of the Inclusive Playground will help us realize many of the playground project's accessibility goals. A new school-age play structure will be installed, replacing the one that was removed last fall.
We continue to receive positive and also constructive feedback about Phase I of the playground -- the pre-school age section -- constructed as a community-build last September. FSP is communicating with park and playground users of all ages, who share our goal to create a fun, engaging, and inclusive play experience, to address concerns and improve on certain details. Please feel free to contact us at info@friendsofstewartpark.org or 607-319-4766 with your concerns, suggestions and comments. For more on the playground, visit our Playground For All page.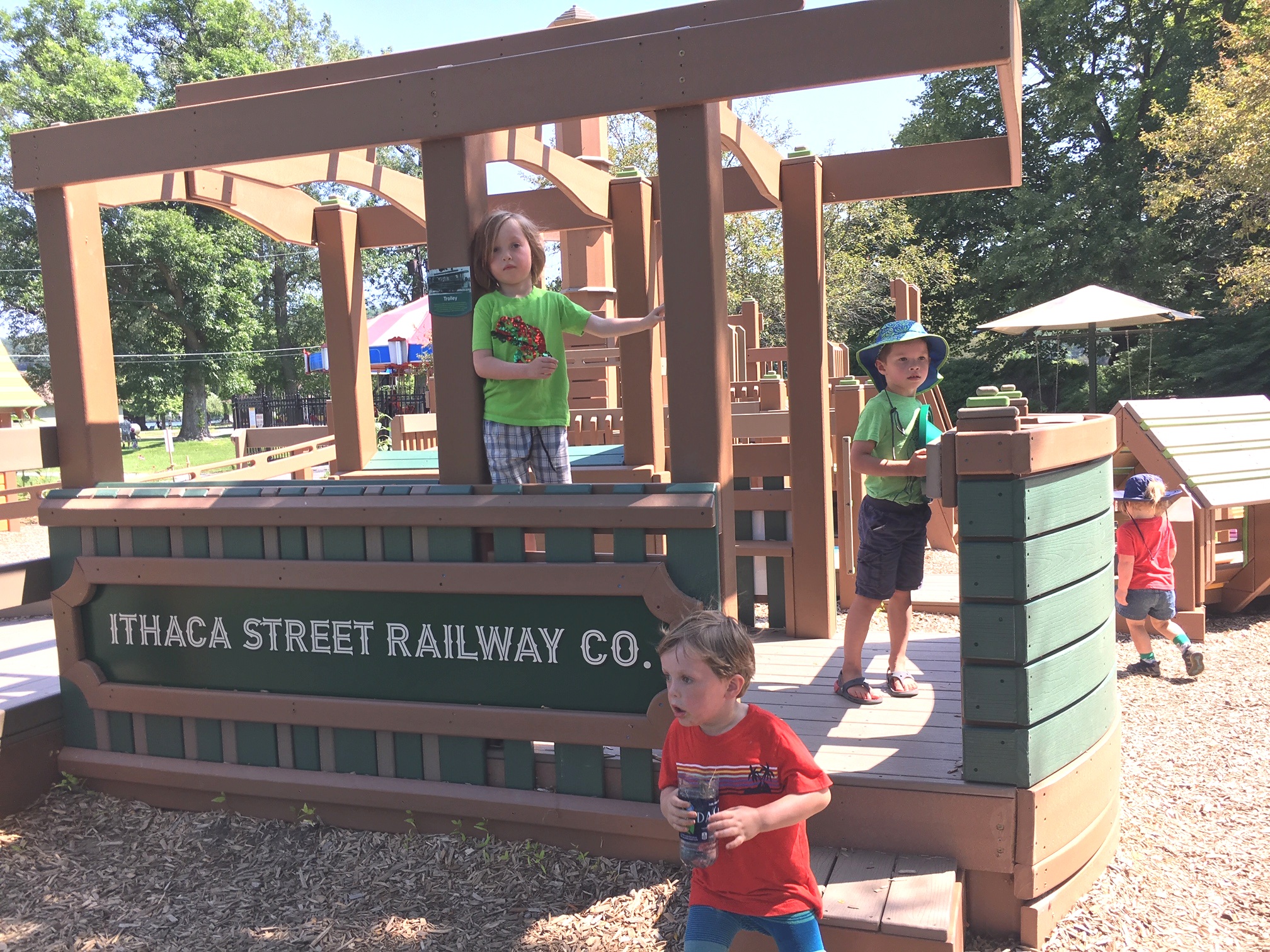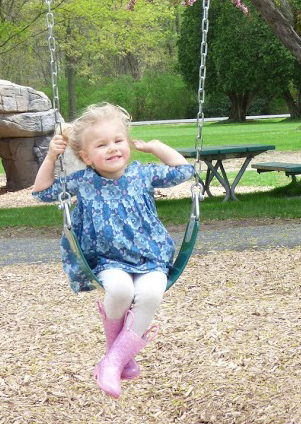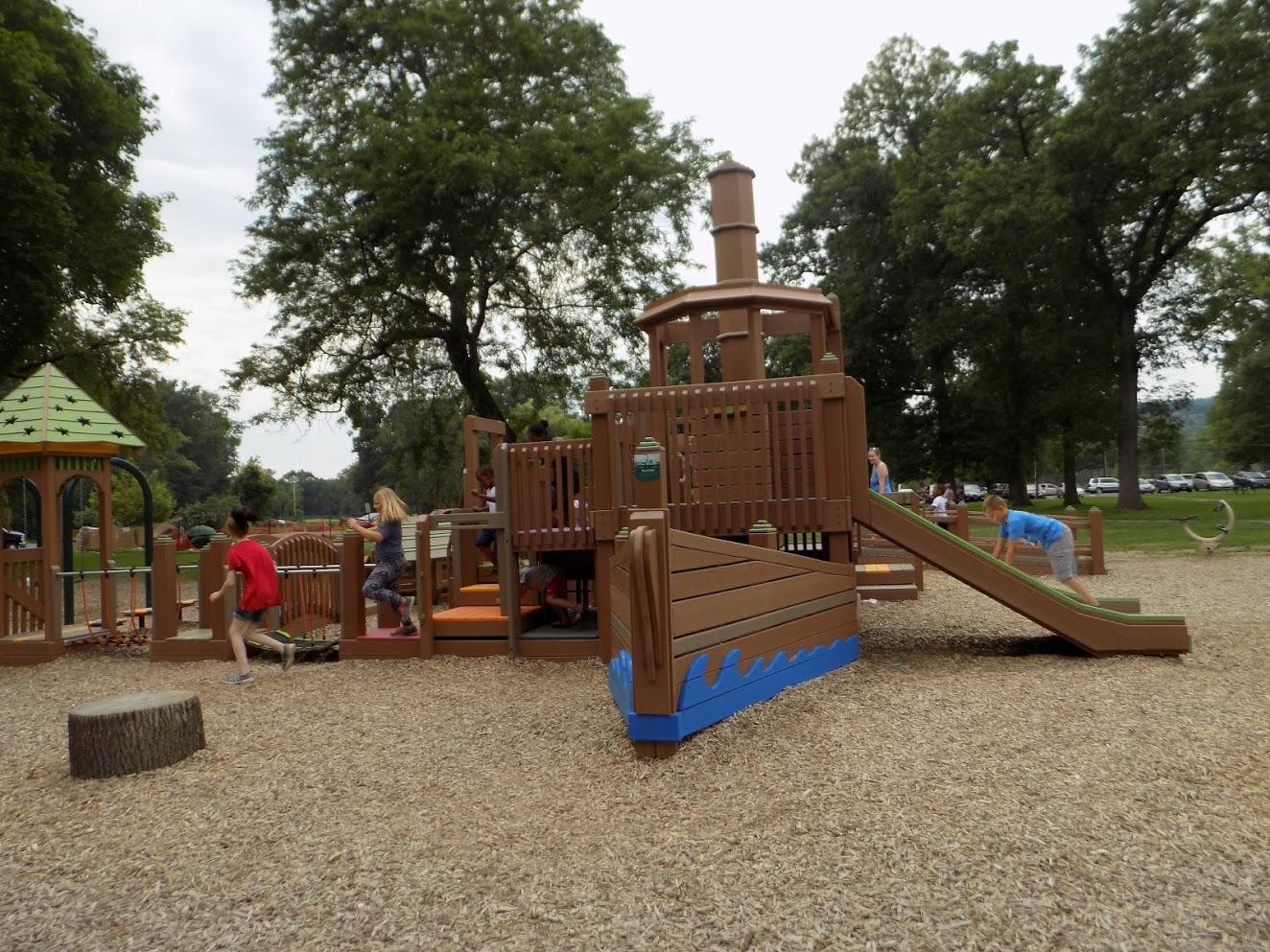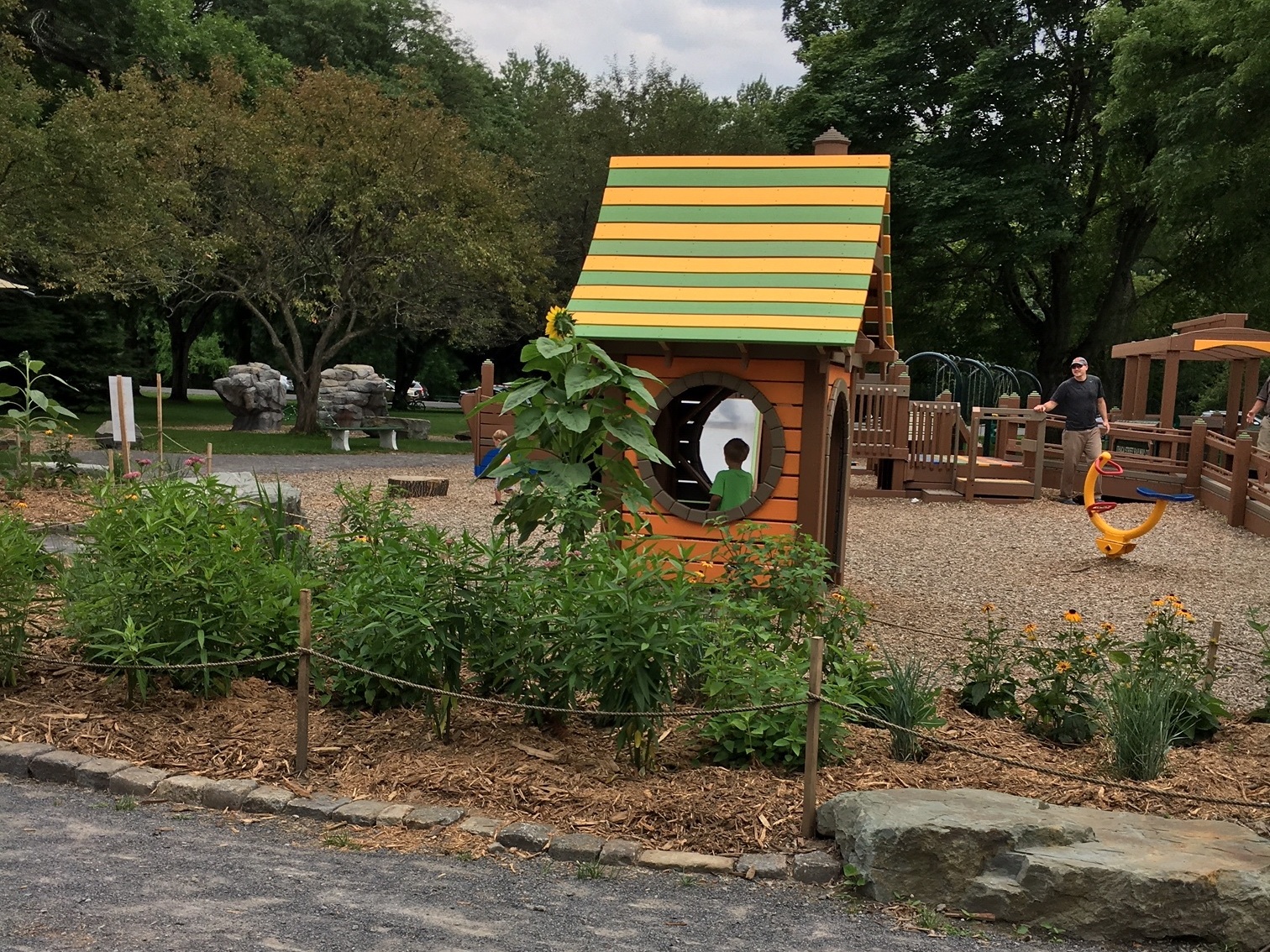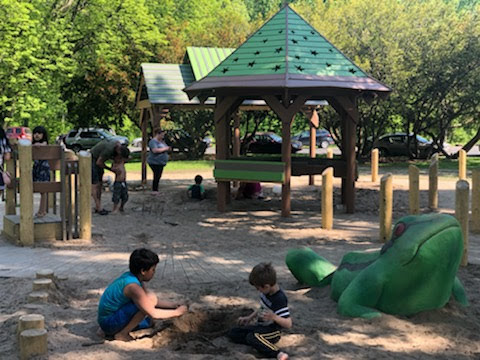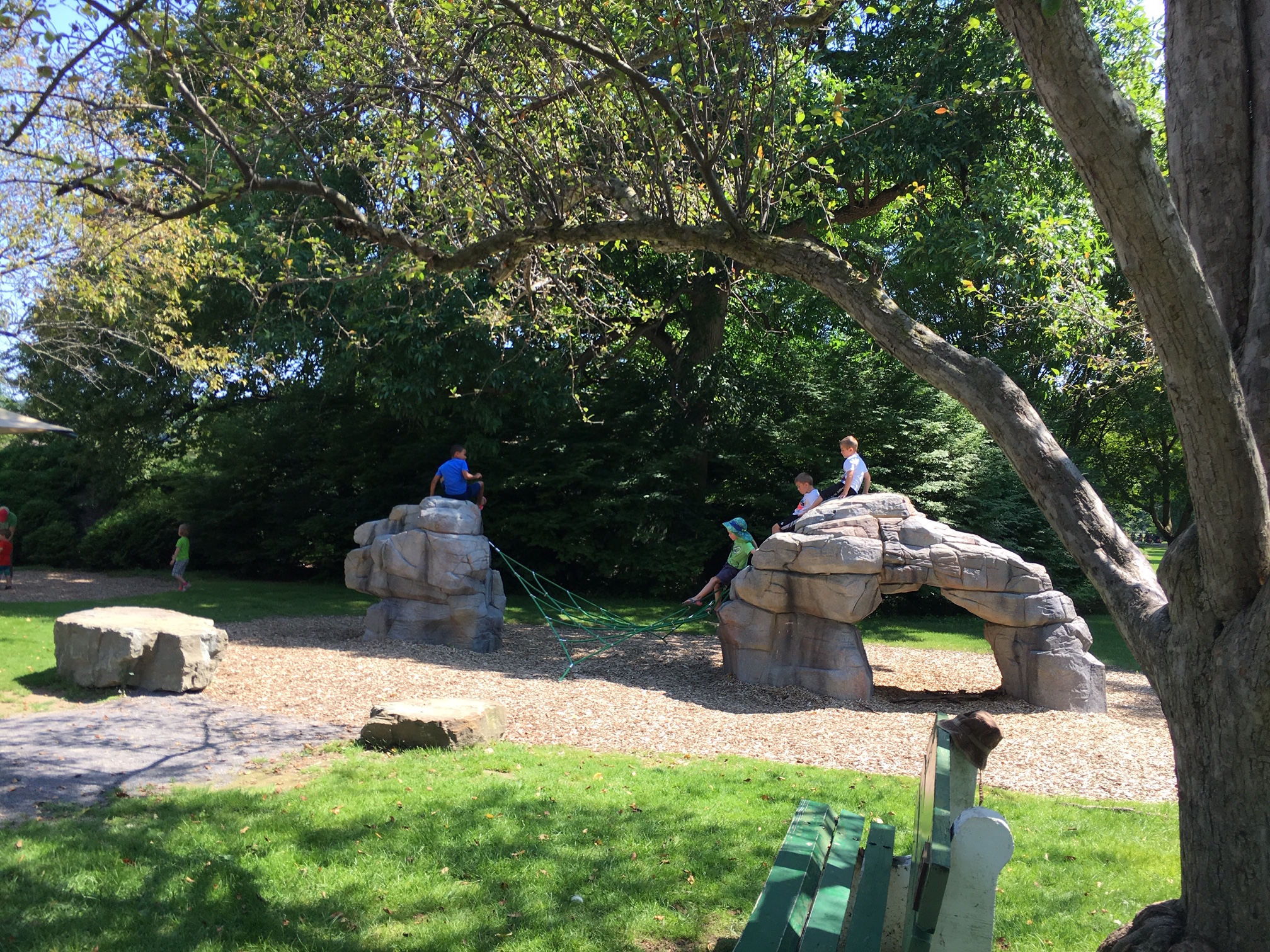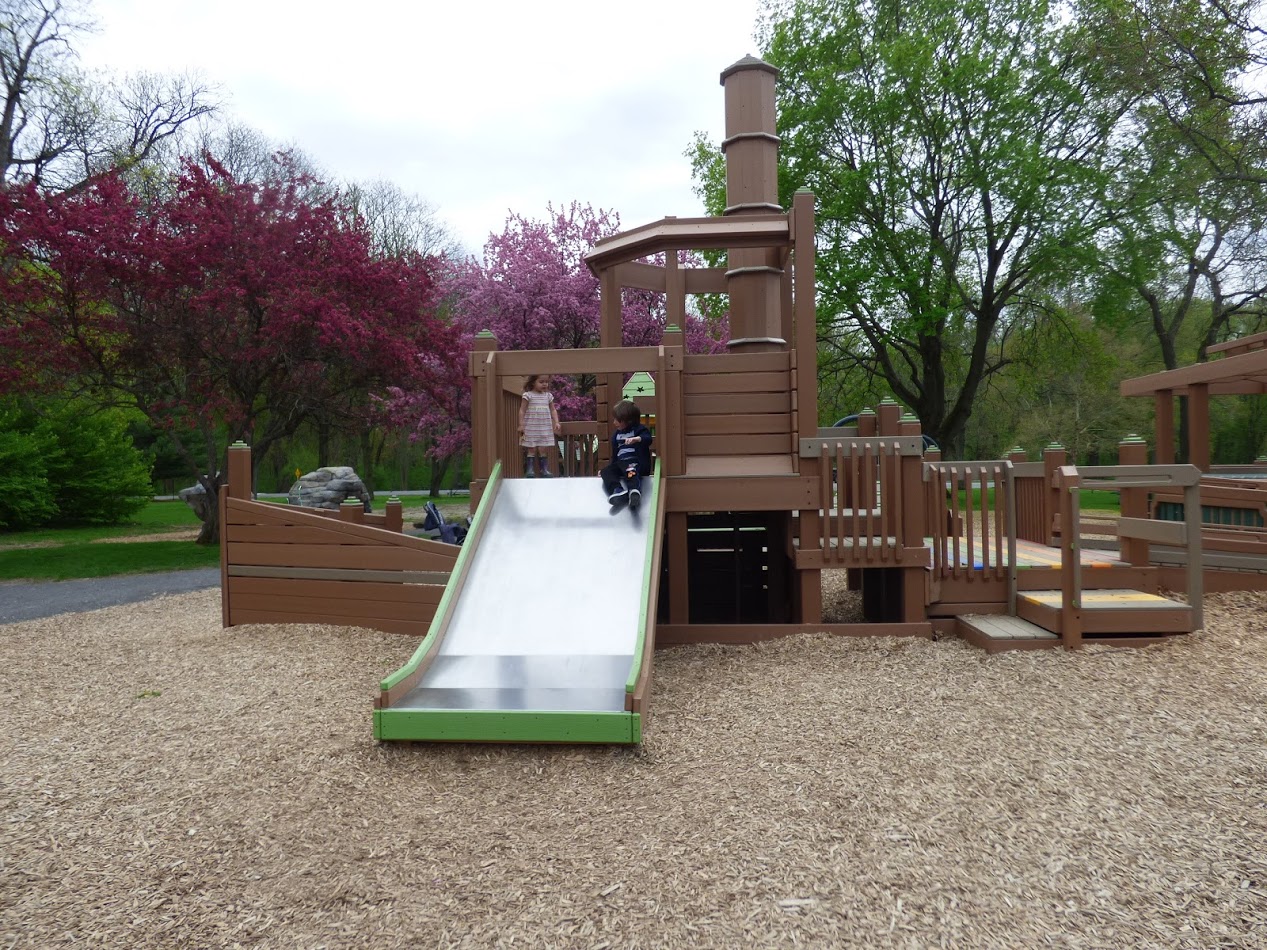 Pavilion Rental
Stewart Park has 2 beautiful lakeside pavilions for rent. Rental arrangements for the pavilions are made through the Ithaca Youth Bureau. Send rental forms to Ithaca Youth Bureau, 1 James L. Gibbs Drive, Ithaca NY 14850 or email them to iyb@cityofithaca.org. Call 607-273-8364 for more information.
Picnic "Large" Pavilion
The large pavilion is in the heart of the historic core of Stewart Park. There are 20 picnic tables inside the pavilion and several around the outside, seating about 6-8 people each. Picnic Pavilion rental also comes with 2 long serving tables. A number of picnic grills surround the pavilion and there's a large barbecue pit (bring your own grates) for your cooking needs. There is a ramp on the northeast side of pavilion and bathrooms located right inside.
Stewart Park Large Pavilion Reservation Form
Small "Tea" Pavilion
The Tea Pavilion is in the heart of Stewart Park located west of the historic core, on the lake side of the playground area. There are 9 picnic tables inside the pavilion and several around the outside of the pavilion which seat about 6-8 people each. There are also a number of picnic grills surrounding the pavilion for your cooking needs. Bathrooms are accessible at the Wharton building.

Grant Received for Cascadilla Boathouse Restoration
Friends of Stewart Park is delighted that Historic Ithaca was awarded a $367,000 grant to restore the exterior of the Cascadilla Boathouse, with the funds going to the City of Ithaca to Complete the Project.
Wharton Studio Museum and Park Visitor Center project gets grant
In October, 2018, New York State Senator Tom O'Mara presented WSM Executive Director and Co-Founder Diana Riesman (Riesman is also chair of FSP), and Rick Manning, FSP Executive Director, with a big 'check' valued at $450,000 in support of developing the Wharton Studio Museum and Park Visitor Center along the lakefront and Waterfront Trail in Stewart Park!